Did another 22 Km yesterday. Not hurting as much but I am still a tad worried. You would think that after months of walking I would be immune to this but nooo, it still hurts. Perhaps being 66 and crazy may have something to do with it.
Vezelay France here I come:
French crop circles!
---
An Ontario girl from Essex District High School, near Windsor Ontario has been suspended for protesting the school's dress code, after she says several of her friends were sent home or told to change because their bra straps were showing.
"We're an all inclusive high school" the principal commented. "The boys were also told to go home and change because their "jock straps" were showing. So the girls were also shown the bathroom door"
"Hey, I thought there wasn't any difference between the boys and girls"
An uproar ensued at the school. A lockdown was ordered and the cops were called. In their best Southern Ontario drawl they, the Cops, commented:
    "Hey bra, what's an Ontario anyway? We gotta get those female sunnamabitches before real trouble starts. You hear me Jacques?"
---
After just hours of assuming his new role as Ambassador to Germany Richard Grennel is in the German poo for comments he made to German and European businessmen. Merkel wasn't amused. "He must understand the German and European position on cucumbers. Zay must be straight as an arrow. They cannot be bent. Ve cannot tolerate such madness, such rudeness. Same with cauliflower. Zay must be white and perfectly round. Aryan!" She then left for another meeting of her minds in the German Reichstag or Parliament. Their Leader-house was in an uproar over this latest diplomatic crisis.
"Prost"
Mutti's "Caucus" was also in a tizzy over Grennel's comments:
"Ve are not amused." The German foreign minister stated:
The German's over reaction about this latest political faux-pas can be traced back to their reaction when Trump won the Presidency:
Trump Derangement Syndrome in spades.
---
Columbia's Military …on drugs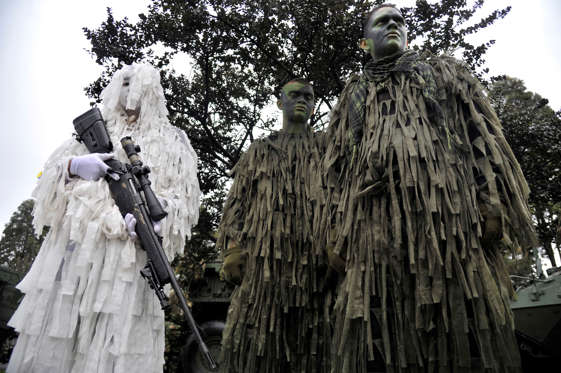 Soon to be coming to the Canadian military. Notice the transgendered Officer on the left in his white dress?
---
This Latest Headline: How does the British Royal family make their money? They don't have real jobs so where does their money come from?
Notice their laughin faces and smirks. Guess?
---
Liberal hypocrisy knows no limits:
Canada bans tanker traffic off the west coast. What about the east coast? Nope. Trudeau is doing all that he can do the alienate the west. Next on his list. Oil and gas exploration, development and extraction will be banned in all of Canada. Barista joints on every street corner. Keep the electorate stoned and they will be happy hence the legalization of pot this July 1st. Canada Day will now be changed to Cannabis Day. Fitting!
I want my country back.
---
Alberta woman's tirade in a restaurant shows that Canada is really racist. This coming from the Toronto "Red" Star newspaper. The hidden subliminal message in the article is that Alberta…westerners…are all racist. But we here in the east, and especially Toronto – the centre of the universe – we (they) are not racist. We (they) are the elite. This in a city where Catholics were once banned from all positions of authority: be it in government, the police force, anything. Don't kid yourself if you are not of progressive thought, of the liberal mindset, you are not welcome in this city. Bullies all of them, especially the SOBs – South Of Bloor shysters. It is all subliminal racism. At  least in the west if they are racially prone (and I am not) they are open about it.
Cats all of them!
That's my rant for today.
Song of the day:  "like a watercolour in the rain!"
Probably one of the most perfect tunes of all time. It has everything in it.
SJ……………………………..out of here.