Love it. Now this is something I would have done in my youth. I wonder if he has anchovies on that. No I didn't lie Mr Trump. I asked for it.
Just got a few minutes of international fame dude.  You'll be forever known as the Pizza Guy!
---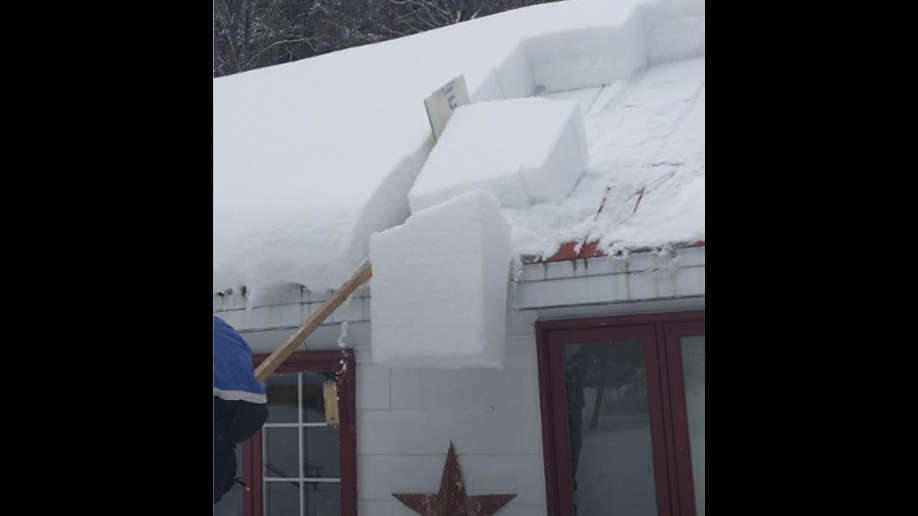 And when you are finished with that pizza box….
After the "zipper" comes this new Canadian invention. How to remove snow from your roof. Only in Canada you say?….pity and shitty!
---
Who woulda thunk?:
Ottawa's $2.1-billion light rail system, supposed to be finished by the end of this month, will not only miss its third completion deadline but is experiencing issues far more serious than city officials have led the public to believe, according to internal reports obtained by CBC.
The reports from the city's rail operations show a litany of issues with the Confederation Line — the east-west system being built by the SNC Lavalin-led Rideau Transit Group — especially when it comes to the system's ability to handle Ottawa winters.
"Vehicles are currently unreliable to the point that it has not been demonstrated that operations can be sustained during a winter weather event," according to one report from last week.
And this in the second coldest, wintriest capital city in the world. Oh wait isn't that SNC Lavalin the contractor?
"Je ne le comprend pas"  the SNC Lavalin head huncho was heard to remark. "It worked fine in Libya!"
No wonder Canada can no longer build or complete any major projects anymore. Next up for Lavalin is Montreal's Jacques Cartier Bridge:
"Where'd the span go? Has anyone seen the spanner?" Frere Jacques asked Joseph Cartier
"This job should be good for another 20 years. Mon Dieu, sacre bleu., has anyone seen my pizza?"
---
The world is going nuts:   
The Supreme Court of British Columbia, Canada ordered that a 14-year-old girl receive testosterone injections without parental consent. The court also declared that if either of her parents referred to her using female pronouns or addressed her by her birth name, they would be considered guilty of family violence.
---
The RCMP is preparing for the return of at least a dozen Canadian ISIS members detained in Syria amidst the collapse of the so-called Islamic State, a senior law enforcement official has told
The Liberal government is preparing the welcoming committee: "yes we will give them all really big hugs, plan the really, really big parade, serve real pizza with pork toppings and anchovies then give them each $10.5M – really! After all, they are all just misunderstood Canadians. It's the Canadian way don't ya know.
Canadian Veterans? Stand fast!
---
Al Stewart's tribute to Admiral Jackie Fisher.
Off to get a meat lovers pizza. But hold the anchovies!
Have a great Navy day.
SJ…………………………………………..Out